From Arrival to Achievement is a comprehensive workshop series designed to equip international students with the knowledge and skills to thrive academically, culturally, and personally. Join us to learn information that can help you on the path to success!
Schedule:
09/11: Life in the US & Florida: Basic Legal Issues
1:30-2:30pm | via Zoom | Link to Join

Living in the US can be challenging for an international student; especially if you are not aware of the most importantlaws that can affect you, but we've got you covered!

Join us for an informative presentation from seasoned attorneys from Student Legal Services that equips you with the knowledge to avoid common legal challenges. AND get your questions answered by the pros themselves!
09/12: Academic Success at UF: How to Succeed as an International Student
1:30-2:30pm | UF International Center

You've made it to UF. Now, what can you do toachieve your academic goals? This workshop is designed for students who havequestions or concerns about how to not only survive, but flourish in UF'sacademic environment. It will cover topics such as community, mentors, and goover campus resources available to students. Presented by Dr. Michael Kung
09/13: Worried About English? Strategies & Resources to Assuage Your Worries
4:30-5:30pm | UF International Center

Are you nervous about joining class discussions, asking professors to clarify assignments, or advocating for yourself in groupprojects? Join this interactive workshop to learn about classroom expectations, academic and personal strategies, and on-campus and off-campus resources.
09/14: Staying Well
1:00-2:00pm | via Zoom | Link to Join

Overall wellbeing involves more than just physical and mental health. Join this workshop to learn more about the 9-dimension of wellbeing, tips and/or how to put better attention personally to the dimensions, and campus resources that are connected to the various dimensions.
09/15: What I Wish I Knew: Experience and Career Prep as an International Student
1:30-2:30pm | via Zoom | Link to Register

Do you wish you had a time travel machine to peek into your future and make better decisions today? While we can't offer time travel, we have the next best thing - the wisdom of experienced students and recent alumni who have walked the path you're about to embark on! Join us for an engaging and insightful workshop designed specifically for international college students like you. This workshop is a unique opportunity to hear directly from seasoned students and alumni who have successfully journeyed through their first year and beyond at UF to emerge with valuable insights.
Welcome!
The UF Gator International Focus Team (UFGIFT) is a diverse team of campus service providers to help international Gators! We provide consultation, present workshops, identify needs and challenges particular to international students, ensure cross-departmental communication, champion initiatives, and support students in need.
Welcome International Students (English)
Bienvenida a Estudiantes Internacionales (Spanish)
Hoşgeldiniz Uluslararası Öğrenciler (Turkish)
Contact Form
Please use the contact form below for messages or questions regarding UF GIFT. Thank you.
UF GIFT Contact Form
---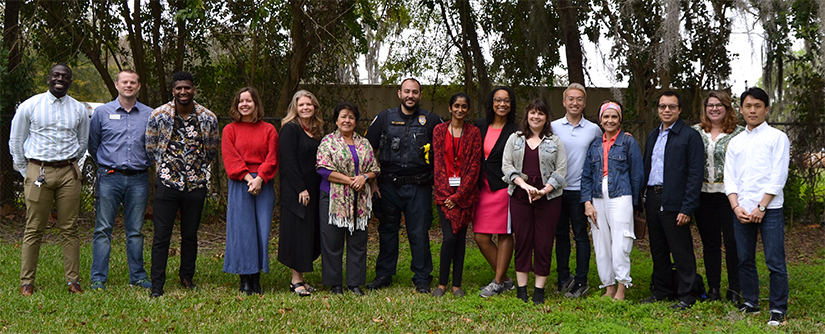 ---
Resources
---
UFIC's mission is to be a leader in fostering international understanding, and in developing the networks of students and scholars who collectively work to build a brighter future for the world.
---
The UF ELI offers intensive English programs that prepare students for using English in the real world.
The new Writing Studio is committed to helping University of Florida students and faculty meet their academic and professional goals by becoming better writers.