Welcome!
The UF Gator International Focus Team (UFGIFT) is a diverse team of campus service providers to help international Gators! We provide consultation, present workshops, identify needs and challenges particular to international students, ensure cross-departmental communication, champion initiatives, and support students in need.
Welcome International Students (English)
Bienvenida a Estudiantes Internacionales (Spanish)
Hoşgeldiniz Uluslararası Öğrenciler (Turkish)
---
FALL 2022 WORKSHOPS

Moving to a new country is a lot, even with the accompany of significant others. The Counseling and Wellness Center is here to support you. In these sessions, we will discuss important topics for F-2 spouses (e.g., relationships and cross-cultural adjustment). Additionally, come meet other F-2 spouses and have some fun together. This is a safe place to share your experiences and to find a sense of community.
Snacks will be provided.
Contact Shu-Yi Wang (shuyiwang@ufl.edu) to RSVP

You've made it to UF. Now, what can you do to achieve your academic goals? This workshop is designed for students who have questions or concerns about how to not only survive, but flourish in UF's academic environment. It will cover topics such as community, mentors, and go over campus resources available to students.
Join via Zoom
The purpose of this interactive session is to assist international students in the process of adjusting to a new culture and life at UF. We will review the common challenges during cross-cultural transition, discuss research-based healthy coping strategies, and identify helpful resources on UF campus.
Join via Zoom

The UF Gator International Focus Team (UFGIFT) is hosting "International Tea Time" where you can meet, talk with, and simply spend time getting to know one another. It's a great opportunity to learn about other people and make friends from around the world. Potential topics include challenges and successes adjusting to another culture, English-speaking anxiety, building a community, fun things to do in Gainesville, etc. Domestic students are welcome to attend as well.
Snacks and tea will be provided. Take a break from school and come join us!
Contact Shu-Yi Wang (shuyiwang@ufl.edu) to RSVP

Come join Shu-Yi and Shinlay from the Counseling and Wellness Center (CWC) to have some fun by playing pool at the Reitz Union. All skill levels are welcome! You will have an opportunity to meet other international students and learn about CWC resources.
There is an 8-person limit for each session. Please RSVP if you would like to join us!
Contact Shu-Yi Wang (shuyiwang@ufl.edu) to RSVP
Contact Form
Please use the contact form below for messages or questions regarding UF GIFT. Thank you.
UF GIFT Contact Form
---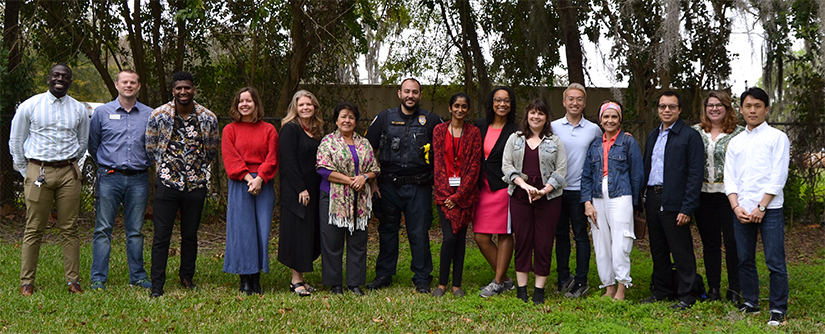 ---
Resources
---
UFIC's mission is to be a leader in fostering international understanding, and in developing the networks of students and scholars who collectively work to build a brighter future for the world.
---
The UF ELI offers intensive English programs that prepare students for using English in the real world.
The new Writing Studio is committed to helping University of Florida students and faculty meet their academic and professional goals by becoming better writers.