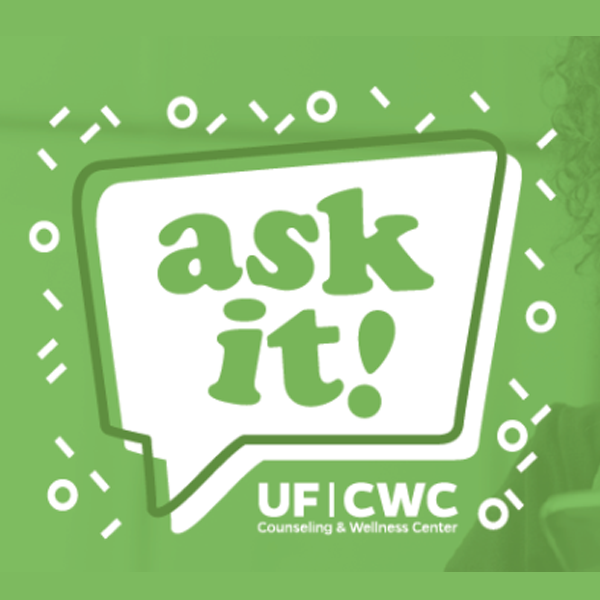 UF Counseling & Wellness Center's "Ask It!" service  is a new way for students to ask mental health questions and have them answered by a CWC associate.
"Ask It!" provides responses to a range of inquiries; such as when to ask for help, how to manage day-to-day stress, how to support a fellow Gator, existing resources for addressing mental health concerns, etc.
Once you submit your question and contact information, a CWC clinician will respond with an answer within 5-7 business days.
QUESTION FOR CLASS ASSIGNMENT
QUESTION FOR CLASS ASSIGNMENT?
If you are submitting questions to Ask-it for a class assignment, note that we will only be able to respond to 2-3 questions only. If there is need for more in-depth information, students are encouraged to complete an Outreach Request Form to request an interview with a CWC provider.
Guidelines
You do not need to be a CWC client or have used CWC services in the past to submit a question. This service is available for all UF students.
Note, communication via UF email may be subject to public record under Florida Sunshine Law. Please do not include any identifiable information in your question. This includes UFID number, last names, addresses, etc.
If you or a fellow UF student is experiencing a mental health crisis please call us at 352-392-1575,  M-F between 9am-3pm for a brief consultation.
If you are experiencing a crisis after 3pm, such as an immediate threat to self or others, call us at 352-392-1575 or the Alachua County Crisis Center at 352-264-6789.
Confidentiality
Your email address is needed  to respond to your question.
At the end of the submission form there is the option to opt-in to CWC's email newsletter with updates about upcoming events, change in service, and other relevant information. You will not be added to this email list without your consent.
Your email address will not be given to any other entity, UF affiliate or otherwise.
We will not use your specific question in any other medium but may use themes and topics we address through this service in future campaigns and promotional materials.