Introduction
At the Counseling and Wellness Center (CWC) we believe that the college years are a time for change, growth, inquiry, and development. We strive to help students learn the skills to cope with the stresses of change and growth so they are better able to learn and thrive after their time as a student is over.
Our Mission
CWC faculty and staff assist UF students cultivate their mental health and well-being in support of their personal, educational, and career development. 
Our Vision
As primary providers of mental health counseling services at the University of Florida, we aspire for every UF student to have timely access to quality care, prevention, and education. 
Our Values
Inclusion, Diversity, Equity, and Access (IDEA); compassion, self-empowerment, growth, and accountability.
Services and Staff
Our services include short-term counseling, group, and couples' therapy as well as consultation, crisis services, outreach, referrals, self-care, and more.
Our interdisciplinary staff is here to support our students finish their educational programs successfully and achieve their personal wellness goals along the way. Our primary commitment is to ensure that each student gets connected with best-fitting campus or community resources to meet their existing needs.
Our diverse staff represents various countries, territories, and states, including Canada, China, Colombia, Cuba, Ecuador, El Salvador, Honduras, India, Jamaica, Puerto Rico, South Korea, and Taiwan; California, Florida, Illinois, Kentucky, New England, North Carolina, Texas, and Washington. Together, we speak several languages and dialects: Cantonese, German, Gujarati, Hindi, Italian, Korean, Mandarin, Marathi, Punjabi, Patois, Spanish, Taiwanese, Tamil, Telugu, and English. We share diversity in regard to race and ethnicity, including Asian, Biracial, Black, Mixed, Multiracial, White; African American, Asian American, Caribbean, Cuban American, Hawaiian, Latinx, Puerto Rican, and European American. We self-identify with diverse affectional orientations, such as bisexual, gay, lesbian, and heterosexual. We are a majority of cisgender women and welcome people from all genders. We come from different social class backgrounds, such as poor, working class, middle class, and upper-middle. We also share diverse ability status, including visible and invisible mental and physical disabilities, such as ADHD and chronic health concerns. We have different worldviews, like Agnostic, Atheist, Buddhist, Hindu, Jewish, Spiritual, Taoist, Catholic, and Christian. We have bodies with many different sizes, shapes, and skin tones. Among our staff some are international and/or first generation college students and additional invisible identities may also be represented.
Dedicated to Culture and Diversity
At the CWC, we value diversity and recognize the unique challenges students may face based on one's race, creed, color, religion, age, disability, sex, sexual orientation, gender identity and expression, size, marital status, national origin, political opinions/affiliations, genetic information, veteran status, and the many other ways one might identify. Throughout all of our services, including short-term counseling, group counseling, and workshops, we strive to create a supportive and empowering environment that is inclusive of all students.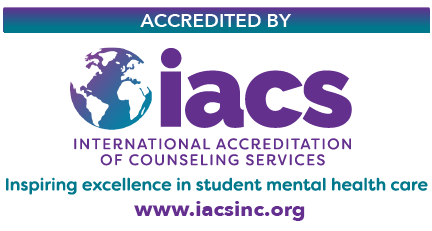 ---
Animals in the Counseling & Wellness Center
In order to make the Counseling and Wellness Center accessible and reasonably comfortable for all students, CWC limits the presence of animals inside the building.  Only service dogs and CWC's therapy dogs are currently approved to work at the CWC. Emotional support animals are not permitted in the Radio Road building nor the 4th floor of Peabody Hall. Individuals who wish to have an emotional support animal accompany them during therapy will be referred to an appropriate community provider.