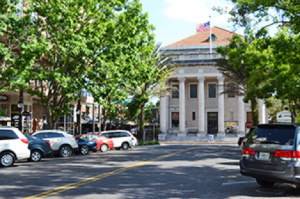 Gainesville is located in North Central Florida, located one hour from the Gulf of Mexico and one-and-one-half hours from the Atlantic beaches. Gainesville has easy access to several major cities (Jacksonville, Orlando, Tampa/St. Petersburg, St. Augustine) yet has been able to avoid becoming a "tourist town." The population of Gainesville/Alachua County is just over 200,000 with a labor force of approximately 100,000. The University of Florida is the major employer in Gainesville and is the "hub" of cultural and recreational activities in the city. Healthcare is the second largest industry, and other growing industries include high tech research, environmental engineering, and agriculture. Gainesville is known for its relatively low cost of living, and its relaxed and progressive atmosphere. In Gainesville you will find a plethora of traditional medical facilities as well as numerous non-traditional healing centers (e.g., massage and acupuncture).
In close proximity to Gainesville are numerous recreational activities. Due to mild winters (temperatures rarely reach freezing, while often being in the 60's and 70's during the day), outdoor activities are possible all year round. Camping, hiking, canoeing, fishing, biking, and other outdoor activities abound. There are numerous rivers, state parks, fresh-water springs, and lakes in the immediate area. Gainesville also boasts an active cultural community, including the Hippodrome State Theatre, a community playhouse, an impressive university performing arts series, and numerous arts festivals and performances. An art museum and cultural performing arts center attract nationally recognized art exhibits and theatrical performances.
Here are some links to help you get familiar with your new "home away from home".
Links