About the University of Florida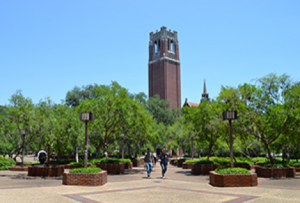 The University of Florida is a public, land-grant research university with an enrollment of more than 50,000 students. The University is a member of the Association of American Universities which is comprised of the top 60 public and private institutions of higher education in America. Its colleges of Journalism, Law, Medicine, Engineering, Business and Architecture are nationally recognized. The University has grown dramatically in the past 25 years.
Recent years have seen increasingly high academic standards. Increased attention has been given to enhancing undergraduate education, while continuing to strengthen the research emphasis. UF also boasts an excellent athletic program. Numerous women's and men's teams are nationally ranked in their respective sports. Men's basketball, baseball, football, and swimming regularly have nationally ranked teams while UF women's teams hold national rankings in swimming, gymnastics, tennis, basketball, and volleyball. The University also welcomes a strong international community, with students coming to study from all around the globe. The International Student Center, Machen Florida Opportunity Scholars, Multicultural and Diversity Affairs and its Institutes at the University are examples of UF's commitment to students from diverse backgrounds.
Links of Interest
GatorPerks Discount Program – The UF GatorPerks discount program provides exclusive discounts for UF faculty and staff. UF employees have the opportunity to save at various businesses and retailers.
About Gainesville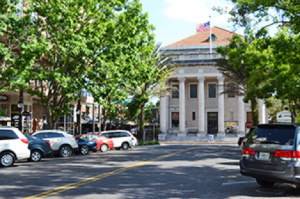 Gainesville is located in North Central Florida, located one hour from the Gulf of Mexico and one-and-one-half hours from the Atlantic beaches. Gainesville has easy access to several major cities (Jacksonville, Orlando, Tampa/St. Petersburg, St. Augustine) yet has been able to avoid becoming a "tourist town." The population of Gainesville/Alachua County is just over 200,000 with a labor force of approximately 100,000. The University of Florida is the major employer in Gainesville and is the "hub" of cultural and recreational activities in the city. Healthcare is the second largest industry, and other growing industries include high tech research, environmental engineering, and agriculture. Gainesville is known for its relatively low cost of living, and its relaxed and progressive atmosphere. In Gainesville you will find a plethora of traditional medical facilities as well as numerous non-traditional healing centers (e.g., massage and acupuncture).
In close proximity to Gainesville are numerous recreational activities. Due to mild winters (temperatures rarely reach freezing, while often being in the 60's and 70's during the day), outdoor activities are possible all year round. Camping, hiking, canoeing, fishing, biking, and other outdoor activities abound. There are numerous rivers, state parks, fresh-water springs, and lakes in the immediate area. Gainesville also boasts an active cultural community, including the Hippodrome State Theatre, a community playhouse, an impressive university performing arts series, and numerous arts festivals and performances. An art museum and cultural performing arts center attract nationally recognized art exhibits and theatrical performances.
Links of Interest