Suicide Prevention Training (QPR)
---
Question, Persuade & Refer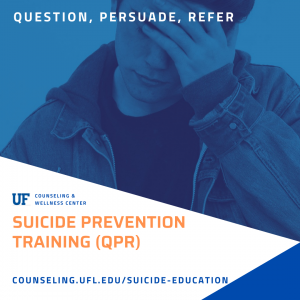 QPR (for Question, Persuade and Refer) is 1.5 hour interactive training for suicide prevention. The course covers myths regarding suicide, warning signs, and how to inquire about suicides. The course also includes an opportunity for questions and discussion. This training is available to faculty, staff, students, and organizations across the University of Florida campus.
Tuesdays: 1/18, 2/15, 3/22, 4/19
2:30PM – 4:00PM
Facilitator: Dr. Sunie Kim
RSVP for an upcoming QPR Training
---
Group QPR Trainings
We also offer QPR trainings for campus departments and offices and can accommodate group trainings of up to 35 people. If you are interested in holding a training for your area follow the button below and complete your request at least three weeks prior to your requested date.
Request a QPR Group Training
---
If you have any questions about the QPR Training, please call the Counseling and Wellness Center at 352-392-1575 and ask to speak with Dr. Sunie Kim.