Psychology Intern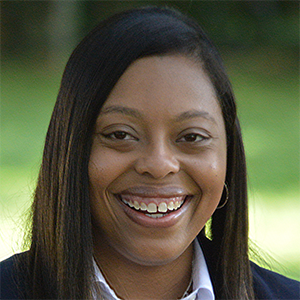 Education
Ph.D. Candidate, Combined-Integrated Clinical and Counseling Psychology, University of South Alabama 
M.S., Counseling Psychology, Alabama A&M University 
B.A., Psychology, Fisk University 
Professional Interests
I am passionate about diversity, equity, and inclusion efforts on a college campus and within the broader world, social justice advocacy, the intersectionality of identities, understanding racial and gender socialization experiences among people of color, and coping with oppressive systems (e.g., discrimination/racism).
Approach to Therapy
I approach therapy from an integrative lens framed within a multicultural context. I primarily align with Existential-Integrative therapy, where I seek to help individuals live a life with meaning and purpose by incorporating concepts from cognitive-behavioral therapy and interpersonal models. I seek to foster a therapeutic environment that is warm, empathic, and understanding of all presenting issues. I strive to help individuals explore their strengths, self-reflect, process, and determine effective ways to move closer towards meaning and purpose. I also seek to emphasize agency as a way to help individuals continue to implement techniques and skills when therapy concludes.  
Approach to Supervision
I strive to provide a developmental and collaborative approach to supervision within a multicultural context. I like to meet trainees where they are and challenge them to grow. I emphasize the need for trainees to be self-reflective and understand that on-going, constructive feedback is necessary to facilitate growth to improve their skills. It is also important for trainees to recognize how their multicultural identities can impact the treatment process and be open to processing those experiences in supervision. 
Approach to Wellness
Holistic wellness and self-care are essential for all individuals. In my spare time, I enjoy shopping, spending time with family and friends, listening to music, reading, relaxing, and traveling. I live by my life motto, "climbing and maintaining," where I seek to strive for excellence in everything I do (i.e., climbing) but being reminded to stay grounded in those things that I hold dear to my heart (i.e., maintaining).