Psychology Intern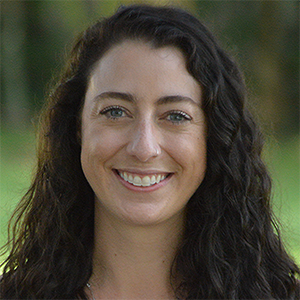 Education
Ph.D. Candidate, Counseling Psychology, Colorado State University
M.S., Counseling Psychology, Colorado State University
B.S., Psychology, University of Florida 
Professional Interests
My interests include accessible mind-body approaches to wellness, such as trauma-informed yoga, mindfulness meditation, horticultural therapy, biofeedback, and Animal Assisted Therapy. 
One of my core values is the pursuit of social justice. I believe it is unrealistic to expect human beings to be well in an unhealthy environment. Healing that is focused solely on the individual level, while important, is not sufficient. I use my role as a mental health professional to aid my communities through advocacy, activism, and outreach that goes beyond performative allyship. I am particularly passionate about working with Queer and BIPOC communities, and reducing the stigma associated with mental health differences.   
My research is focused within the scope of the Women's Health Movement and the promotion of health equity. I am interested in treatment outcome research for embodied therapeutic interventions.
Approach to Therapy
In order to honor my clients' complex experiences, I utilize a Bio-Psycho-Social approach to psychotherapy. I believe the relationships between individual biology, psychology, and social systems to be dynamic, bidirectional, overlapping, and foundational to wellbeing. Intersectionality and cultural humility are central to my work as a clinician. Each individual sits at the center of a unique constellation of intersecting identities; and is the expert on their own lived experiences. I work collaboratively with my clients to create a safe and supportive environment that fosters self-exploration and growth.  
My goal in the therapeutic relationship is to flexibly utilize treatments in order to address the client's acute concerns (e.g. symptom reduction), encourage alignment between client behavior and goals/values, and promote sustainable wellness. I utilize an integrated approach to psychotherapy, drawing from multicultural feminist, body-centered, cognitive-behavioral, dialectical-behavioral, existential, and mindfulness-based traditions. I strive to meet my clients' needs through an individualized therapeutic approach, wherever they may lie on the spectrum from severe impairment to thriving.    
I see trauma as a natural response to life's most difficult events, and therefore hold a strengths-based approach to mental health concerns. Aspects of humanity associated with mental health diagnoses are often stigmatized, both externally as well as internally. I believe that cognitive/emotional/behavioral differences represent the wide spectrum of human experience, rather than "deficiencies" or "defects." In an empathetic and accepting therapeutic environment, clients experiencing mental health concerns can move towards identifying the strengths in their own differences, as well as learning to better manage all aspects of their wellness. 
Approach to Supervision
I utilize a feminist approach to supervision to support supervisees in their clinical growth. I work collaboratively with supervisees to identify professional goals, strengths, and growth edges. Bidirectional feedback is provided throughout the supervisory relationship to address interpersonal dynamics, as well as to empower the supervisee to be an active stakeholder in their development. Supervisees are encouraged to explore the identities that they hold to increase personal and professional self-awareness. One goal of supervision is the utilization of self as the therapeutic instrument.  
Approach to Wellness
Wellness is a lifestyle. Though we often believe that wellness is a goal to be achieved, it is better conceptualized as a daily practice that can be learned and cultivated. While some aspects of wellness are universal (e.g. sleep hygiene), other elements of wellness are deeply personal. These may look different for each individual, or even from one day to the next. To me, a holistic approach to wellness is one that works for you! If it brings you peace, it is not important whether it looks how we think self-care "should."  
My personal wellness practice includes gardening, mindfulness, prioritizing mental and physical health, making sure I get enough sleep, spending time in nature, cooking, and enjoying my loved ones. Some days I practice wellness by meditating, and other days I practice by watching trashy TV in my pajamas. The beautiful thing about wellness is the freedom to define what wellness means to us in each moment that we decide to practice. 
Other Activities
Outside of the office, I enjoy growing plants of all kinds, spending time with loved ones and my pets, being outside, watercolor painting, looking for alligators in Lake Alice, and watching 90s teen dramas.